International Student Services
New Major I-20s
F-1 regulations require that schools notify the U.S. government when international students declare or update their majors.
ISS receives information about majors and minors directly from the UW master student database.
Majors and Minors
Majors: ISS will generate a new I-20 printout when ISS sends the government information on majors.
Please note: The major MUST be current in order for ISS to issue the new I-20. ISS cannot print major information for pending majors.
Minors: Changes to academic minors do not generate a new I-20. Changes to academic minors are updated in the SEVIS database electronically, but are not printed on a new I-20.
Frequently Asked Questions
How do I request my new major I-20?
Students do not need to contact ISS to request an update to the I-20 with new major or minor information — it will happen automatically.
When will my new I-20 be ready?
A new I-20 is usually available by the 6th week of the quarter.
The U.S. government has temporarily given schools permission to electronically sign and email I-20s. We will send an email to your @uw.edu address with your new I-20 attached as a PDF.
I got my new I-20 and my major is different than I expected. Why is that?
The U.S. government has a system where each university major has a government code number (called a CIP code) and a matching standard name. This is because universities can use very different "preferred names" for their programs of study, and the CIP code system helps standardize information from school to school.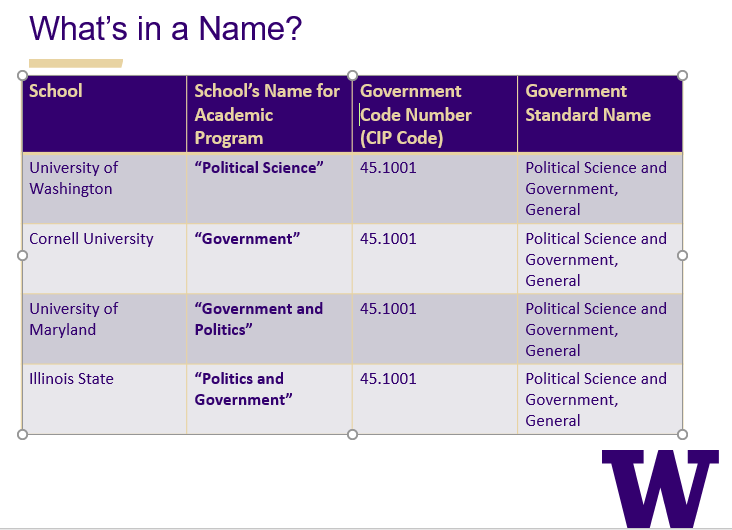 The code number and matching standard name for your major or academic program are printed on the I-20 form. The University's name for your major is not print on the I-20.
Do I need to request a travel signature for my new major I-20?
Students do not need to separately request a travel signature. One will be included with their new major I-20 automatically.
---
Contact ISS About Major or CIP Code Issue