International Student Services
New Major I-20s
F-1 regulations require that schools notify the U.S. government when international students declare or update their majors.
ISS receives information about majors and minors directly from the UW master student database.
Majors and Minors
Majors: ISS will generate a new I-20 printout when ISS sends the government information on majors.
Please note: The major MUST be current in order for ISS to issue the new I-20. ISS cannot print major information for pending majors.
Minors: Changes to academic minors do not generate a new I-20. Changes to academic minors are updated in the SEVIS database electronically, but are not printed on a new I-20.
Frequently Asked Questions
How do I request my new major I-20?
Students do not need to contact ISS to request an update to the I-20 with new major or minor information — it will happen automatically.
When will my new I-20 be ready?
A new I-20 is usually available by the 7th week of the quarter.
I-20s are available for download in MyISSS in section 3 Requests and Documents.
It's spring quarter now, and my department has approved me for a new major next quarter. Will I get it in summer quarter? Or autumn quarter?
If you enroll for Summer, then we will automatically issue you a new I-20 after Summer quarter starts.
If you take a vacation quarter in Summer and don't enroll, then we will automatically issue you a new I-20 after Autumn quarter starts.
I got my new I-20 and my major is different than I expected. Why is that?
The U.S. government has a system where each university major has a government code number (called a CIP code) and a matching standard name. This is because universities can use very different "preferred names" for their programs of study, and the CIP code system helps standardize information from school to school.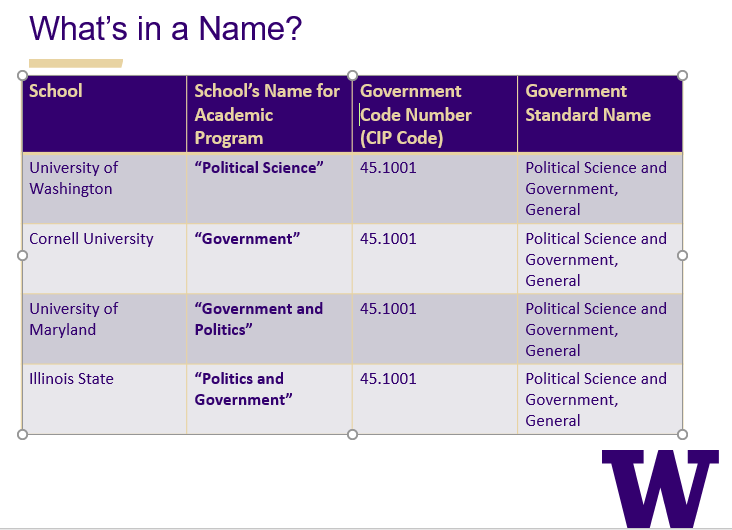 The code number and matching standard name for your major or academic program are printed on the I-20 form. The University's name for your major is not printed on the I-20.
Do I need to request a travel signature for my new major I-20?
Students do not need to separately request a travel signature. One will be included with their new major I-20 automatically.
Can I travel without the new major on my I-20?
Yes, you should use your most recently issued I-20 when traveling. You should not encounter any trouble traveling with a pending major update. Once your major is updated, we will reach out to inform you of your new I-20.
---
Contact ISS About Major or CIP Code Issue