Who is a transfer student?
A student who will transfer their SEVIS immigration record to the UW Seattle campus is considered a transfer student for immigration purposes. These students should work with their admissions unit to get their Transfer-Pending I-20.
What is a Transfer Complete I-20?
F-1 regulations require that schools notify the U.S. government when international students have completed the required steps to transfer their SEVIS record from one school to another. When a student studying at another school is admitted and starts the SEVIS transfer process to move their I-20 to UW, they are issued a "transfer pending" I-20.

After the SEVIS transfer process is completed, ISS prints a "transfer complete" I-20 that looks like this example.
>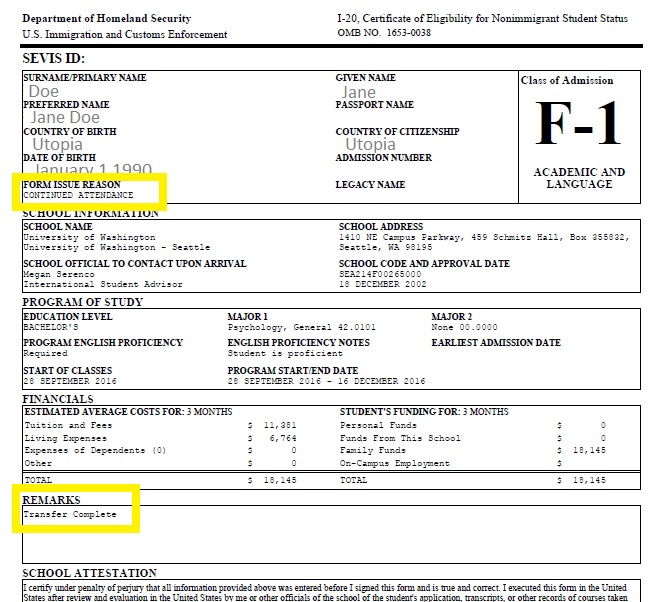 Frequently Asked Questions
Frequently Asked Questions
Students do not need to contact ISS to request an update to the I-20 with transfer complete information — it will happen automatically after you successfully complete the New Student Post-Arrival Check-In.
I-20s are usually available by the 7th week of the quarter.
Your Transfer Complete I-20 will be available for download in MyISSS
The U.S. government has a system where each university major has a government code number (called a CIP code) and a matching standard name. This is because universities can use very different "preferred names" for their programs of study, and the CIP code system helps standardize information from school to school.
Learn more about CIP codes and majors.
If you have dependents, they do not need a transfer complete. The text on a dependent I-20 does not change after the SEVIS record transfers.
Yes, we will automatically include a new Travel Signature on your Transfer Complete I-20. You do not need to request this separately.