I-20/DS-2019 Forms
I-20/DS-2019 Forms
I-20s and DS-2019s for newly admitted UW students are issued by the Admissions Offices, not the ISS office. Please contact the appropriate admissions office to inquire about the I-20/DS-2019 request process.
Admitted Undergraduate Students: Visit the New Huskies website to request your I-20 or DS-2019.
Email: intladm@uw.edu
Admitted Graduate Students: After paying your enrollment confirmation deposit, request your I-20 or DS-2019 via your graduate application.
Email: uwgrad@uw.edu
If you have requested an I-20/DS-2019 through an admissions office, please inquire with them about how you chose to receive your I-20/DS-2019.
Undergraduate students: intladm@uw.ed
Graduate students: uwgrad@uw.edu
You should reschedule your interview with the U.S. Embassy or Consulate. You must have your I-20 or DS-2019 with you for your visa interview.
The government calls university staff members who can update SEVIS a DSO which stands for Designated School Officials. Learn more about the roles of a DSO. The International Student Advisers in the ISS office are all DSOs.
DSO is a term we want you to remember. It is used frequently in government instructions for students.
Travel and Entry to the U.S.
Travel and Entry to the U.S.
Students may enter the U.S. in "INITIAL" F-1 or J-1 status (as new international student, not a SEVIS transfer student) up to 30 days before the program start date provided on the I-20 or DS-2019.
F-1 students with an I-20: The earliest date to enter the U.S. is printed on the I-20 document.
Entering the U.S. earlier than the 30-day window before your program start date is not recommended.
Customs and Border officers will not accept an I-20/DS-2019 and matching F-1/J-1 visas before the 30 days.
Students will be required to show either a valid tourist visa or permit to enter under the Visa Waiver Program; AND
Students will be required to exit and re-enter the U.S. again using the F-1/J-1 visa and I-20/DS-2019 to "activate" their F-1/J-1 status.
Making multiple trips in and out of the U.S. during the 30-day arrival window is not recommended. Students who try this often complain that re-entry at the U.S. border is difficult.
Customs and Border (CBP) officials expect new students who just arrived to be on campus attending orientation and starting classes. When a new student leaves the country and tries to re-enter, CBP officials may ask many questions about class enrollment, the orientation schedule, and why "you are not in school."
Immigration regulations prohibit students from entering the U.S. earlier than 30 days prior to the start date on the I-20/DS-2019. Students should change their plane ticket to a later date.
Exception: Students transferring their SEVIS record from another school in the U.S., such as a high school or community college, and received a "transfer pending" I-20, may enter the U.S. anytime prior to the I-20 start date.
Student should have the following documents in their carry-on bag. Do not put these travel documents in checked suitcases!
Passport (valid for at least 6 months into the future)
F-1 or J-1 Visa (Canadian citizens exempt)
SEVIS Form I-20 (F-1) or DS-2019 (J-1)
SEVIS fee receipt
Supporting financial documentation (most students use the same as for the visa application)
Proof of class registration
It is also recommended to review the Immigration and Customs Enforcement (ICE) travel FAQs before coming into the U.S. Students must be prepared to complete forms about items being brought into the U.S.
Online Check-In
Online Check-In
Section 3 Requests and Documents in MyISSS will show the status.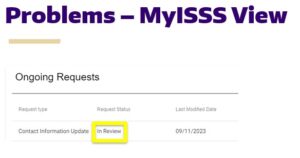 A Contact Information Update in the Pending Requests section marked "In Review" has a problem.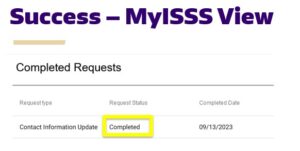 A Contact Information Update request in the "Completed Requests" zone was successful.
The U.S. government says:
"All initial F-1 and M-1 students should report to a DSO as soon as possible upon admission into the United States but no later than the Initial Session Start Date (start of classes) as listed in SEVIS." The law for this statement is 8 CFR 214.3(g)(iii)(C)
Match your I-20 Form Issue Reason to the examples in this table.
I-20 Type
Student Location
Inside the U.S.
Student Location
Outside the U.S.

I-20 Initial Attendance

Yes
No

I-20 Transfer Pending

Yes
No

I-20 Change of Level

Yes
No

I-20 Change of Status

Change of Status 100% approved? Yes

Change of Status pending?  Contact ISS

No
The check-in form helps collect the information ISS needs in order to complete the first SEVIS Registration process on your Initial I-20 for your new study program.
Section 3 in MyISSS shows the status of your requests and Registration in the government's SEVIS system.
Requests in the "Completed Requests" zone were successfully processed.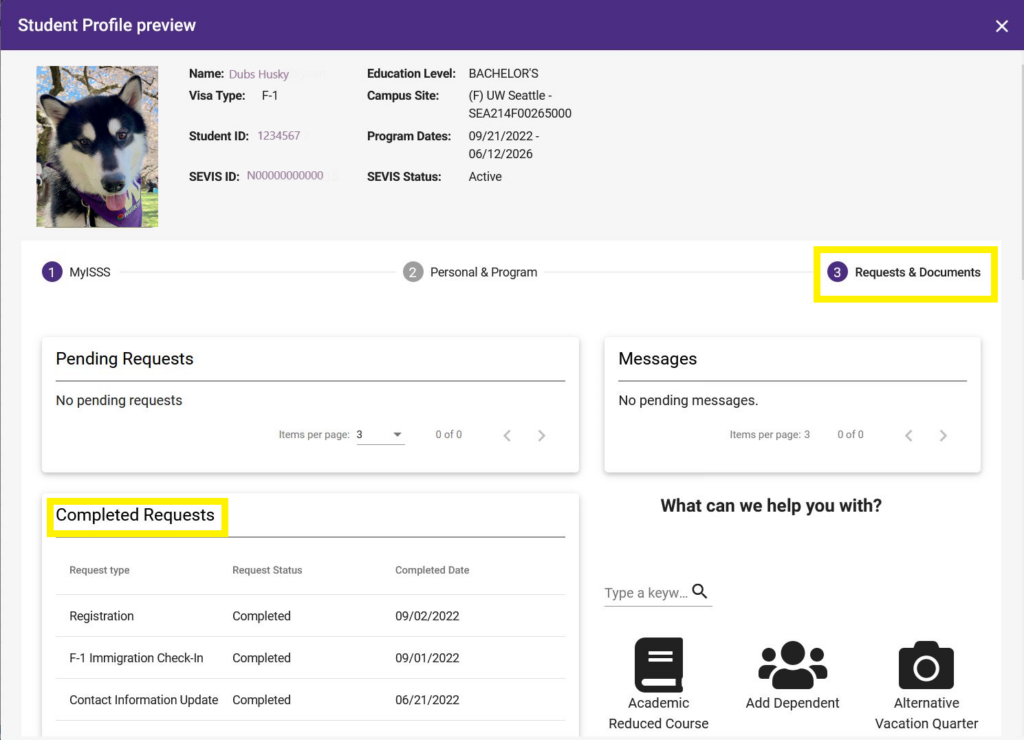 Orientation
Orientation
| Orientation | Undergraduate Students | Graduate Students |
| --- | --- | --- |
| Advising & Orientation (A&O) is a mandatory program for all new freshman and undergraduate transfer students. Students will learn about undergraduate degree requirements, academic advising, and the registration process. A&O sessions are coordinated by First Year Programs. | Yes | N/A |
| Departmental/Program Orientations: The various graduate programs, departments, and schools at the University will schedule orientation activities for their own graduate students. Additionally, students who will be Research (RAs) or Teaching Assistants (TAs) should contact their department for RA/TA orientation details. | N/A | Yes |
| Dawg Daze is the University's annual tradition of welcoming all new students to campus with entertainment, activities, and opportunities to learn about the UW campus. The entire campus comes together to provide opportunities for interaction, community-building, and fun. | Yes | Yes |
Registration and Academics
Registration and Academics
Visit the Student Fiscal Services website to learn about the options for paying tuition, as well as other resources regarding rates, financial management, and more.
Yes. Undergraduate students are required to register for at least 12 credits each academic quarter and graduate students must register for at least 10 credits. An ESL class will count towards that minimum. For more information about ESL courses, contact the UW Intensive English Program.
Yes, as long as the total number of credits enrolled during Early Fall Start and Fall Quarter total to the minimum full-time credit requirements.
Visas and Regulations
Visas and Regulations
Students who are currently studying in F-1 status at another school in the U.S., no matter what degree level, need to have their SEVIS record "transferred" to the UW. This is because only one school at a time is allowed access to a student's SEVIS record. In order for the UW to issue an I-20, the current school of attendance must transfer a student's SEVIS record to the UW. The current international student adviser must do this.
It is possible to be employed on campus for fewer than 20 hours per week. Off-campus employment is only allowed with prior authorization from either ISS or Immigration. Review the F-1 employment options or J-1 employment options for more information about employment eligibility.
Students should review the ISS Rules and Regulations information and become familiar with ISS services. ISS sends out weekly emails regarding F-1 and J-1 updates and important reminders. Learn more "About ISS.
Health Care and Health Insurance
Health Care and Health Insurance
The majority of F-1 and J-1 students must purchase UW insurance, although there are a few exceptions. Please review the exceptions and learn more about the waiver process on our health insurance information page.
Hall Health Primary Care Center is one of many local options for getting healthcare. It is especially convenient because it is located on campus and offers a variety of services, especially for students.
Miscellaneous