ISS recently welcomed three new advisers to our team!
To introduce them to you all, our blog will feature Adam, Brittany, and Max throughout the week.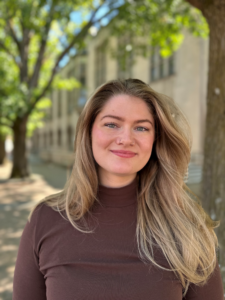 How did you become interested in working with international students?
I became interested in working with international students while I was a TA here at UW. It was so great getting to work with the UW international student community that I wanted to continue doing so
Are you originally from Seattle?
I'm originally from New Jersey! I came to the UW for graduate school and fell in love with the Seattle area.
Do you have any pets?
I have two cats named Malibu and Stormy.
What are you currently reading?
Disorientation by Elaine Hsieh Chou.
Where is your favorite place in the world?
Valencia, Spain. I love beaches and oranges, two things this areas is known for.