ISS recently welcomed three new advisers to our team!
To introduce them to you all, our blog will feature Adam, Brittany, and Max throughout the week.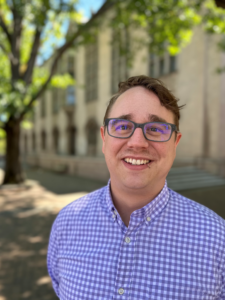 How did you become interested in working with international students?
During my Undergraduate and Graduate studies at the university I attended, I worked for a First-Year experience office. In that role I was a peer leader for many international students, where I introduced them to campus resources, arranged for study times, helped with conversational English and hosted meet and greets with domestic students to help the international students get more engaged. During my Master's program I was the supervisor for all of these First-Year experience courses and my Master's Thesis was concerning international student adjustment to American higher education.
Are you originally from Seattle?
I was born and raised in Parkersburg, West Virginia. After college, I decided to move to Seattle with my partner and another friend for work and to start a new adventure. I love all of the nature that surrounds our city. You can go in any direction and see some of nature's most amazing sights. Seattle also has an amazing food scene.
Do you have any pets?
I have one dog, Alice, and she is a full sized goldendoodle. She is my best friend!
Where is your favorite place in the world?
My favorite place in the world is France. I love Paris and Marseilles, and all the small towns, villages, and castles in between. I find the French people to be very lovely and the food is some of the best in the world. I would love to live there one day!