International Student Services
Post-Arrival Checklist
Complete the Immigration Check-In Online
The U.S. government requires all F-1 and J-1 students to officially "check in" with their university when they begin a new program of study in the U.S.
No appointment or meeting is required —  check-in at the UW is 100% online.
You must be inside the U.S. to check in. Please complete your online check-in as soon as you can after you successfully enter the U.S.
| Starting Quarter | Online Check-In Opens | Check-In Deadline |
| --- | --- | --- |
| Winter 2022 | December 6 2021 | January 3, 2022 |
Step 1: Prepare!
Successfully enter the United States. You must be inside the U.S. to check in.
Enroll full-time for classes at UW
Prepare digital files of documents for upload
Step 2: Update Your MyUW Contact Information
Avoid Rejection! Contact information problems are the most common reason student check-ins fail.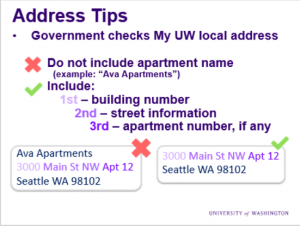 Use the MyUW Contact Info Update Guide to avoid common problems.
Your contact information must exactly match the U.S. Post Office's database to successfully be checked in.
Rejected check-ins endanger your status with the U.S. government. ISS will put a hold on your university account if this process is not done correctly.
Step 3: Complete the Immigration Check-In & Document Upload Form
Winter 2022 Immigration Check-In
F-1 Process Instructions (pdf)
J-1 Process Instructions (pdf)
Step 4: Complete Required Embark Session
All new international students on F-1 or J-1 visas are required by the University to attend one Embark session.
FIUTS manages Embark in coordination with the International Student Services (ISS) and other UW departments.
At your Embark session you will:
Connect with other new and returning students
Prepare for your cultural transition to the UW and U.S.
Learn more about maintaining your legal status with the U.S. government while studying at UW.