International Student Services
I-94 Arrival/Departure Record
What is an I-94 record?
Your travel in and out of the U.S. is recorded electronically by Customs and Border Protection (CBP) through the I-94 Arrival/Departure Record. This important record lists your entry date, port of entry, and visa status in which you were admitted to the U.S. The I-94 record may be required as proof of status for F-1 or J-1 benefits applications, employment verification, and other official purposes.
When you travel, your admission information will be recorded in your electronic I-94 record.
How do I access my electronic I-94 record?
Step 1: Wait 3 work days after entry to the U.S.
Step 2: Use the "Get Most Recent I-94" menu tab on the Customs and Border Protection I-94 website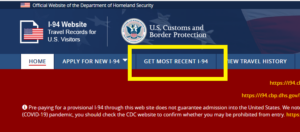 What should my I-94 look like?

It's important your I-94 show your correct Class of Admission (F1 or J1) and Admit Until Date (D/S)
What if there is something wrong with my I-94?
Use this form to notify ISS you have a problem with your I-94. A staff member will contact you to help with your official correction request.
Contact ISS about I-94 Issue
What happens to my I-94 record when I leave the country?
Your departure information will be collected by the U.S. government from airline manifests; under these circumstances, nothing will be collected from you. If you have an electronic I-94 record, but leave the U.S. by a border crossing, Customs and Border Protection recommends that you take other proof of your exit with you.
How can I get more information on I-94 records?
If you have questions about your I-94 record, feel free to contact ISS. If you want more information regarding the electronic I-94 system, please check the CBP website.