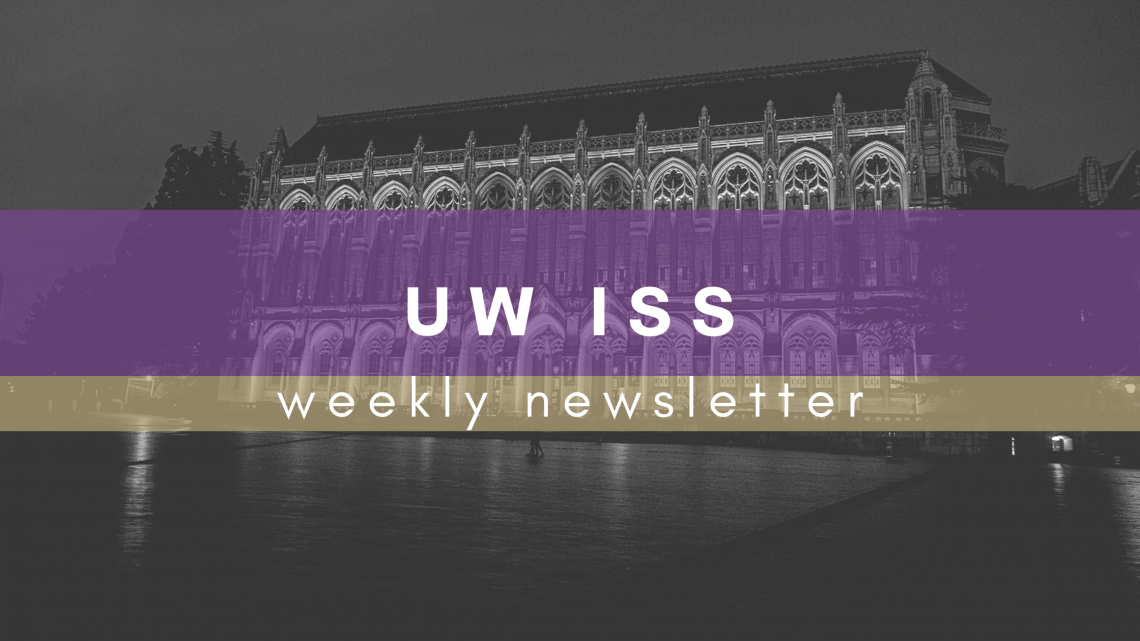 SPRING 2021 - WEEK 1
Welcome to a new week! We have a lot of information to share with you this week -here's a summary:

NEW THIS WEEK - WELCOME NEW HUSKIES!
All the students at the University of Washington are Huskies, and we are so glad to welcome you!


The International Student Services office is here to help you learn the immigration rules so that you can complete your academic program. You don't need to know everything about everything - we're here to help you learn the immigration rules you must follow to be successful.


The ISS website is a great first stop for answering your questions.


Additionally, we're excited to offer real-time advising and help - come meet with ISS staff at our Virtual Front Desk if you have any questions.


If you're joining us in-person this quarter, be sure to share your adventure with your friends and family back home--they are so curious to hear how you're doing! Contact your parents and other family members to share your UW experience with them.


Good luck this year, and be sure to read any emails from us--that's our main way to get in touch with you.


Director and International Student Adviser
International Student Services
ANNOUNCEMENT: EXTENSION OF ISS PROCESSING TIMES
Beginning Monday, March 29, 2021, the processing time for all requests submitted to the ISS office will be up to one month.  We are adjusting our processing time to better align with the reality of our current workload. Additionally, we are working to balance changes in staffing by hiring and training additional ISS staff to support our work in serving …


REGISTER FULL TIME FOR SPRING QUARTER!
It's time to finalize your plans for spring quarter!


If you will continue your studies in spring quarter, be sure to register full-time.


If you will graduate this quarter, make sure to review the final year checklist - there is still time to apply for OPT, apply to transfer to a new program, or make other plans.


Traveling to the U.S. for Spring Quarter?
For students with active SEVIS records who are coming back to the U.S. after a few quarters of studying remotely, remember to double-check your travel signature validity. As long as your SEVIS record is active and you have a valid travel signature, you do not need a new I-20!
TAX SEASON EXTENDED
The IRS has announced that the tax deadline has been extended to May 17, 2021.

ISS has a website with tax information and links to the Glacier Tax Prep (GTP) software. You may review it here: https://iss.washington.edu/student-life/money-matters/tax-information/
Please do not use off-campus software. Most of the software you can purchase online or in the store is designed for U.S. citizens and will not work for most international students. This software also does not check for tax treaties with your country of citizenship.
Students who used Glacier Tax Prep last year may have learned that they can now file taxes as a "resident alien for tax purposes." If this is you, you may file using software designed for U.S. citizens and residents.
NOT TRAVELING TO THE U.S. FOR SPRING QUARTER? REQUEST AN I-20 DEFERRAL NOW!
If y

ou will not travel to the U.S. for in-person study, we are able to defer your program start date to a future quarter - you may request a deferral to Summer or Autumn quarter.




Important factors to consider:
You are required to enroll for an in-person course during your first quarter of study in the U.S.
If you choose summer quarter as your first quarter of study in the U.S., make sure to work with your academic department or adviser to ensure that there are enough classes available for you to enroll full time and satisfy the in-person course requirement.
An I-20 program start date is not the same as a deferral of your admission.
Please do not submit this form if you plan to travel to the U.S. for spring quarter 2021

or if you will graduate Spring Quarter 2021. If you will travel to the U.S. for spring, be sure to complete the immigration check-in.


Questions about deferring your I-20? Contact us via our 'Have a Question' form, or visit us at the Virtual Front Desk!
UPCOMING EVENTS & DEADLINES
As we begin a new quarter, be sure to review the add/drop deadlines & tuition deadlines.
March 30: Deadline to apply for the Husky Seed Fund
April 2nd: Deadline to apply to participate in Unite UW Spring 2021

Unite UW is adapting to continue connecting students through cultural exchange, community building, and lots of fun activities. During this 7-week program, we provide an inviting and judgement-free environment for domestic and international students to share your stories and experiences, to make sense of who you are, and to bond over your differences. Through Unite UW, many huskies have found their best college friends and a home-like community that celebrates diversity and embraces their unique identities. We hope you do too!

April 5th: Tax Drop-In Advising with ISS Advisor David Gerry
Need more information? We offer on-demand and live resources to help answer your questions!