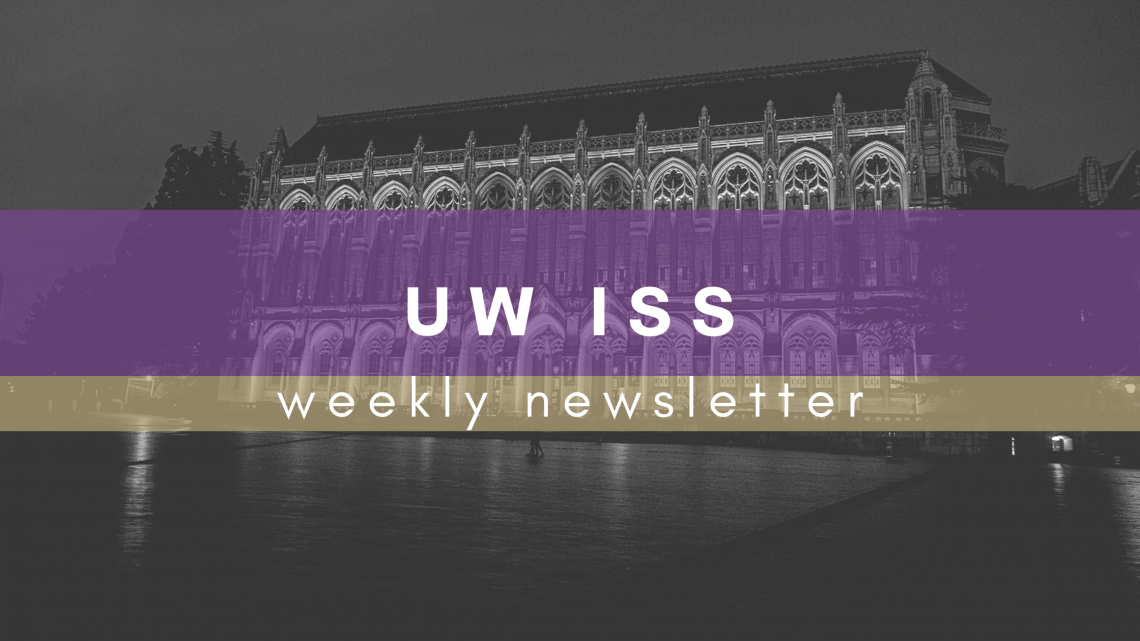 SPRING 2021 - WEEK 3
Welcome to a new week! We have a lot of information to share with you this week -here's a summary:

We want to hear from you! We've published our Feedback Form and will include it in all email correspondence. Please help us by providing feedback whenever you're interacting with our office - be that during drop-in advising, emailing with our staff, or after an appointment. The feedback form is available here.
Glacier Tax Prep is live - please visit our website for more information on how to file your taxes. We're also excited to offer tax-related drop-in advising - scroll down to the 'events & deadlines' section of this newsletter for more information.
USCIS introduced an electronic version of the Form I-765 - read below for more information.
NEW THIS WEEK
The first few weeks of the quarter are always a busy time - for students and staff alike! We hope that you are enjoying your new classes and that the term is off to a smooth start for you. This week, we want to highlight a process change for dropping courses.


LATE COURSE DROP PERIOD & THE ADVISOR ASSISTED DROP
Week 3 of the quarter marks the beginning of the Late Course Drop period - this means that there are additional steps involved if you need to drop courses.


You now have two options:

If you need to drop just one course, you may do so once per quarter using your self-serve Quarterly Drop via MyUW. The Quarterly Drop replaced the Annual Drop in Autumn 2020.

To use your self-serve Quarterly Drop, follow the same instructions as for the Unrestricted Drop Period

. You will not be eligible to use the self-serve drop if the drop will take you below full-time.

If you have already used your self-serve Quarterly Drop, or if you know you want to drop more than one course, you will use the Adviser-Assisted Drop process.
REGISTER FULL TIME FOR SPRING QUARTER!
If you aren't already full-time or authorized for an exception, it is very urgent that you do so now.


If you will graduate this quarter, make sure to review the final year checklist - there is still time to apply for OPT, apply to transfer to a new program, or make other plans.


Traveling to the U.S. for Spring Quarter?
For students with active SEVIS records who are coming back to the U.S. after a few quarters of studying remotely, remember to double-check your travel signature validity. As long as your SEVIS record is active and you have a valid travel signature, you do not need a new I-20!
COVID VACCINE AND IN-PERSON REQUIREMENTS FOR AUTUMN 2021
We have been receiving many queries about autumn quarter 2021 in-person course and vaccine requirements. We hope the information below will help answer your questions based on what we know right now. UW President Cauce announced in January and again on April 1 that the University intends to return to largely in-person instruction for autumn quarter 2021 as …


USCIS ADDS FORM I-765 TO ELECTRONIC FORMS
USCIS is currently testing an electronic form I-765 for students seeking optional practical training employment benefits.
The form is too new for us to have seen many students apply electronically - therefore, we do not have steps and guidance prepared at this time.
If you decide to file online, please know that we are unable to help you prepare your application spring quarter 2021
.
While we will issue you the required I-20 with OPT endorsement, we will not be able to answer your questions or provide guidance about the online form.
There may be additional requirements
when
filing online (i
.e. in person biometrics appointments).
Once we have more information from USCIS and other colleagues in international education, we will update our website with more information
and guidance
.
If you choose to apply for OPT or STEM OPT online, please make sure you follow USCIS's directions AND request an OPT endorsed I-20 from ISS.
TAX SEASON EXTENDED
The IRS has announced that the tax deadline has been extended to May 17, 2021.

ISS has a website with tax information and links to the Glacier Tax Prep (GTP) software. You may review it here: https://iss.washington.edu/student-life/money-matters/tax-information/
Please do not use off-campus software. Most of the software you can purchase online or in the store is designed for U.S. citizens and will not work for most international students. This software also does not check for tax treaties with your country of citizenship.
Students who used Glacier Tax Prep last year may have learned that they can now file taxes as a "resident alien for tax purposes." If this is you, you may file using software designed for U.S. citizens and residents.
NOT TRAVELING TO THE U.S. FOR SPRING QUARTER? REQUEST AN I-20 DEFERRAL NOW!
If y

ou will not travel to the U.S. for in-person study, we are able to defer your program start date to a future quarter - you may request a deferral to Summer or Autumn quarter.




Important factors to consider:
You are required to enroll for an in-person course during your first quarter of study in the U.S.
If you choose summer quarter as your first quarter of study in the U.S., make sure to work with your academic department or adviser to ensure that there are enough classes available for you to enroll full time and satisfy the in-person course requirement.
An I-20 program start date is not the same as a deferral of your admission.
Please do not submit this form if you plan to travel to the U.S. for spring quarter 2021

or if you will graduate Spring Quarter 2021. If you will travel to the U.S. for spring, be sure to complete the immigration check-in.


Questions about deferring your I-20? Contact us via our 'Have a Question' form, or visit us at the Virtual Front Desk!
ANNOUNCEMENTS FROM CAMPUS PARTNERS
NEW WRITING RESOURCE FOR GRADUATE STUDENTS
The Odegaard Writing and Research Center is launching a new asynchronous virtual resource,
Working on It
, aimed at helping graduate students develop and refine a writing process that works for them. Composed of five primary strategies and techniques, this self-guided resource provides adaptable instructional exercises and commentary from graduate writers from across UW on how these practices have helped them cultivate their own writing practices. Check it out now!
ACADEMIC SUPPORT PROGRAMS: SPRING UPDATE
CLUE: Drop-in tutoring, scheduled appointments, exam reviews, discussion sessions
CLUE tutoring is open for drop-in tutoring from 7 pm- 11 pm (PST) on Sundays through Thursdays. Our tutors are ready and eager to support you virtually! You can bring any question you might have no matter where you are in the process. We also offer daytime scheduled appointments for Math, Chemistry, Physics, and Writing support. Exam reviews and discussion sessions are also available, and more information can be found on the CLUE website.
Academic Success Coaching: Skill building and study skills workshops
Our Academic Success Coaches are available and excited to meet with you virtually! Academic Success Coaches are peers who are available to meet with students one on one to discuss strategies including but not limited to time management, goal setting, motivation, studying, connecting to campus resources, or any topic area that a student is experiencing within their educational journey. Visit our Academic Success Coaching website and schedule an appointment with our coaches. Questions? Email aspcoach@uw.edu.


Here are the upcoming Study Skills Workshops that our Academic Success Coaches are hosting this quarter. All workshops are open to all students and available through Zoom this quarter. Our Study Skills website includes more specifics about each workshop including dates, descriptions, and how to register! These quarterly workshops provide strategies, resources, and tips focusing on these topics:

Staying Motivated and Successful Time Management
Study Smart: Effective Study Strategies & Virtual Study Time With ASP
Self-Care Workshop & Virtual Study Time With ASP
Finals Exam Prep and Test Anxiety
ASP Graduate School Panel
Interested in Working with us?
Do you have a passion for teaching, supporting other students, and are interested in enhancing your own skills? If so, check out CLUE's applications for either Front Desk Manager or Drop-In Tutors (Math, Chemistry, Physics, Writing)! The priority deadline to apply for all positions is Friday, April 23rd. To find more information about how and where to apply, please visit our Work with Us website.
More information about Academic Success Coaching applications will be updated on our website in the weeks to come this quarter!


UPCOMING EVENTS & DEADLINES
As we begin a new quarter, be sure to review the add/drop deadlines & tuition deadlines.

Upcoming events with our campus partners, CIRCLE:


Have you ever been stuck on a math problem? Or weren't sure what topic to write about for an essay? Join us to chat with two tutors from UW CLUE (Center for Learning and Undergraduate Enrichment). They will discuss how CLUE works, give some effective study tips, and answer your questions about tutoring. Grab your favorite tea and join us in conversation.

Tuesday Tea is an informal, relaxed space to learn about resources, people, and programs at UW. Each event features different guests who will share their experiences and knowledge. You will have the opportunity to learn from them and ask questions.



4/19/2021 - Deadline to apply to join the FIUTS Student Board

Enhance your global leadership at the University of Washington: Join the FIUTS Student Board (2021-2022)!

Application deadline: 11:59 p.m. on April 9, 2021 // Apply online:

The FIUTS Student Board is a year-long learning and leadership experience that amplifies the organization's mission of international understanding, supports programs, and represents the diversity of the UW. This is a great opportunity for UW students to develop leadership and teamwork skills, while fostering global community on campus. Join FIUTS to be a member of the student Board! We welcome all UW current students (U.S. and international) at all degree levels (undergraduate, graduate, or IELP level). Members build professional networks and gain real-world experience working with the nonprofit sector.



Advocate for FIUTS values of peace, community, diversity, dialogue, engagement, and service

Improve your leadership, organizational, event-planning, and communication skills

Learn about the nonprofit sector while serving on a nonprofit Board of Trustees

Work closely with FIUTS staff in carrying out the organization's programs and mission






The 2021 Virtual Spring Job & Internship Fair, hosted virtually in Handshake by the

UW Career & Internship Center

, will give you an exciting opportunity to network with dozens of employers (via 10-minute 1:1 video chats and 30-minute group sessions), who are all looking to recruit UW students and alumni for full-time, part-time, and internship opportunities.

Matriculated students and alumni from all majors/programs at UW-Seattle are welcome and encouraged to attend.

How does a Virtual Career Fair work? Check out these resources:

The University of Washington is committed to providing access and reasonable accommodation in its services, programs, and activities. Accommodation requests related to a disability should be made 10 days in advance to cicevents@uw.edu.

4/28/2021 - Final deadline to be enrolled full time. Under-enrolled students who have not applied for an exception will have their SEVIS records terminated on this date.
Need more information? We offer on-demand and live resources to help answer your questions! Let us know how we're doing by filling out our feedback form.