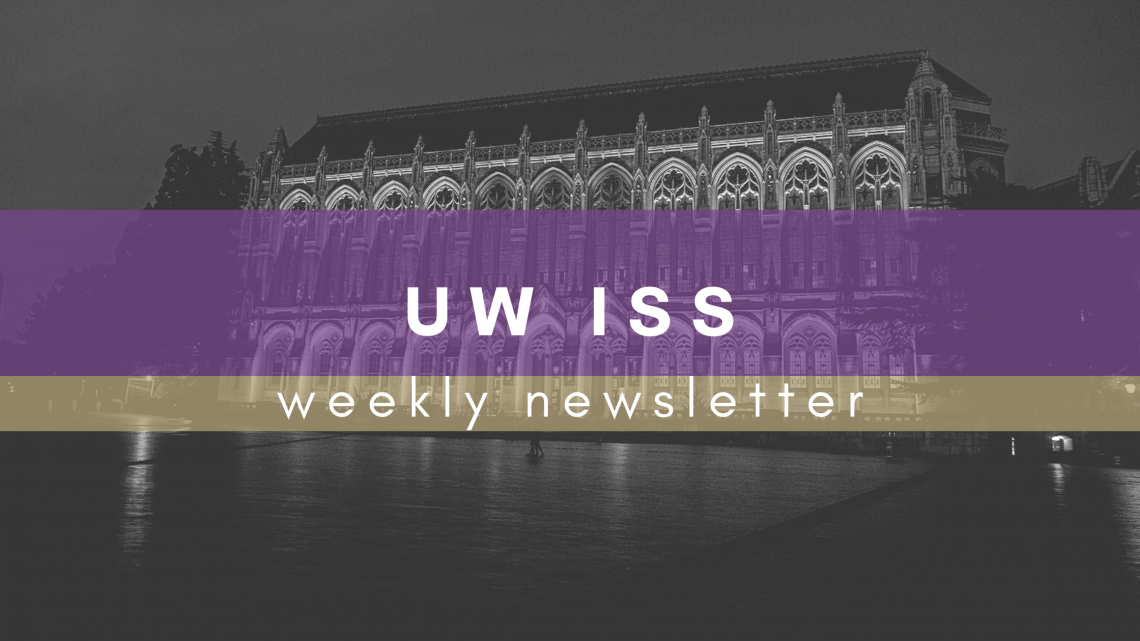 SPRING 2021 - WEEK 2
Welcome to a new week! We have a lot of information to share with you this week -here's a summary:

We've updated our Virtual Front Desk & Drop-In Advising hours - check out our schedule below.
We want to hear from you! We've published our Feedback Form and will include it in all email correspondence. Please help us by providing feedback whenever you're interacting with our office - be that during drop-in advising, emailing with our staff, or after an appointment. The feedback form is available here.
Glacier Tax Prep is live - please visit our website for more information on how to file your taxes. We're also excited to offer tax-related drop-in advising - scroll down to the 'events & deadlines' section of this newsletter for more information.
USCIS introduced an electronic version of the Form I-765 - read below for more information.
NEW THIS WEEK
The first few weeks of the quarter are always a busy time - for students and staff alike! We hope that you are enjoying your new classes and that the term is off to a smooth start for you.


The most important reminder we have to share this week is a reminder to enroll full-time! Our primary focus at the beginning of the quarter is to ensure that international students at UW are enrolled full-time - this is a requirement for your non-immigrant visa status. If you aren't full-time, you can review your options for exceptions to the full-time requirements in the next section of our newsletter. If you have questions, please come visit us during our Virtual Front Desk & Drop-In Advising hours.


In addition to reminders about enrolling full-time, we'd also like to share a reminder to be on the alert for scams targeting international students. We've observed a recent increase in very realistic-seeming scams - these seem to be specifically related to tax season, which was just extended. Please be very cautious of any email or phone call you receive where the sender/caller claims to be a representative of a U.S. government agency. If you are ever unsure of the legitimacy of a specific message, please contact us - if it is time-sensitive, please call UW Police at (

206) 685 - 8973.




A final update: some great local news - last week, Washington Governor Jay Inslee announced that all Washington residents over the age of 16 will be eligible to get the COVID-19 vaccine beginning April 15th. If you are not already vaccinated, you can get more information here, here, and here.
REGISTER FULL TIME FOR SPRING QUARTER!
If you aren't already full-time or authorized for an exception, please do so now.


If you will graduate this quarter, make sure to review the final year checklist - there is still time to apply for OPT, apply to transfer to a new program, or make other plans.


Traveling to the U.S. for Spring Quarter?
For students with active SEVIS records who are coming back to the U.S. after a few quarters of studying remotely, remember to double-check your travel signature validity. As long as your SEVIS record is active and you have a valid travel signature, you do not need a new I-20!
USCIS ADDS FORM I-765 TO ELECTRONIC FORMS
USCIS is currently testing an electronic form I-765 for students seeking optional practical training employment benefits.
The form is too new for us to have seen many students apply electronically - therefore, we do not have steps and guidance prepared at this time.
If you decide to file online, please know that we are unable to help you prepare your application spring quarter 2021
.
While we will issue you the required I-20 with OPT endorsement, we will not be able to answer your questions or provide guidance about the online form.
There may be additional requirements
when
filing online (i
.e. in person biometrics appointments).
Once we have more information from USCIS and other colleagues in international education, we will update our website with more information
and guidance
.
If you choose to apply for OPT or STEM OPT online, please make sure you follow USCIS's directions AND request an OPT endorsed I-20 from ISS.
TAX SEASON EXTENDED
The IRS has announced that the tax deadline has been extended to May 17, 2021.

ISS has a website with tax information and links to the Glacier Tax Prep (GTP) software. You may review it here: https://iss.washington.edu/student-life/money-matters/tax-information/
Please do not use off-campus software. Most of the software you can purchase online or in the store is designed for U.S. citizens and will not work for most international students. This software also does not check for tax treaties with your country of citizenship.
Students who used Glacier Tax Prep last year may have learned that they can now file taxes as a "resident alien for tax purposes." If this is you, you may file using software designed for U.S. citizens and residents.
NOT TRAVELING TO THE U.S. FOR SPRING QUARTER? REQUEST AN I-20 DEFERRAL NOW!
If y

ou will not travel to the U.S. for in-person study, we are able to defer your program start date to a future quarter - you may request a deferral to Summer or Autumn quarter.




Important factors to consider:
You are required to enroll for an in-person course during your first quarter of study in the U.S.
If you choose summer quarter as your first quarter of study in the U.S., make sure to work with your academic department or adviser to ensure that there are enough classes available for you to enroll full time and satisfy the in-person course requirement.
An I-20 program start date is not the same as a deferral of your admission.
Please do not submit this form if you plan to travel to the U.S. for spring quarter 2021

or if you will graduate Spring Quarter 2021. If you will travel to the U.S. for spring, be sure to complete the immigration check-in.


Questions about deferring your I-20? Contact us via our 'Have a Question' form, or visit us at the Virtual Front Desk!
UPCOMING EVENTS & DEADLINES
As we begin a new quarter, be sure to review the add/drop deadlines & tuition deadlines.

Upcoming events with our campus partners, CIRCLE:


Monday, 05 Apr 6-8pm Virtual Writing and Presentation Support for International Graduate Students


Join CIRCLE and the OWRC for a writing space exclusive to UW international graduate students. You will get an opportunity to check in with a graduate writing tutor regarding your writing needs and get 1-on-1 consultation. The time of consultation may vary based on the number of students who attend the event. We will also have staff onsite to help you practice presentations if you sign up for that option. You're invited to attend one or all the sessions throughout Spring Quarter.



Have you ever been stuck on a math problem? Or weren't sure what topic to write about for an essay? Join us to chat with two tutors from UW CLUE (Center for Learning and Undergraduate Enrichment). They will discuss how CLUE works, give some effective study tips, and answer your questions about tutoring. Grab your favorite tea and join us in conversation.

Tuesday Tea is an informal, relaxed space to learn about resources, people, and programs at UW. Each event features different guests who will share their experiences and knowledge. You will have the opportunity to learn from them and ask questions.

4/19/2021 - Deadline to apply to join the FIUTS Student Board

Enhance your global leadership at the University of Washington: Join the FIUTS Student Board (2021-2022)!

Application deadline: 11:59 p.m. on April 9, 2021 // Apply online:

The FIUTS Student Board is a year-long learning and leadership experience that amplifies the organization's mission of international understanding, supports programs, and represents the diversity of the UW. This is a great opportunity for UW students to develop leadership and teamwork skills, while fostering global community on campus. Join FIUTS to be a member of the student Board! We welcome all UW current students (U.S. and international) at all degree levels (undergraduate, graduate, or IELP level). Members build professional networks and gain real-world experience working with the nonprofit sector.



Advocate for FIUTS values of peace, community, diversity, dialogue, engagement, and service

Improve your leadership, organizational, event-planning, and communication skills

Learn about the nonprofit sector while serving on a nonprofit Board of Trustees

Work closely with FIUTS staff in carrying out the organization's programs and mission





Need more information? We offer on-demand and live resources to help answer your questions! Let us know how we're doing by filling out our feedback form.