Autumn Quarter 10/17/2022 - J-1 Student Newsletter
Meet Our ISS Student Assistants

Academic Training Evaluation

J-1 Drop-In Advising Information

What is a travel signature? And why does ISS keep talking about it?
Upcoming J-1 Travel Signature Clinics

J-1 Immigration Orientation Session Recording
Upcoming Events & Deadlines
ISS & ISHIP Hours this week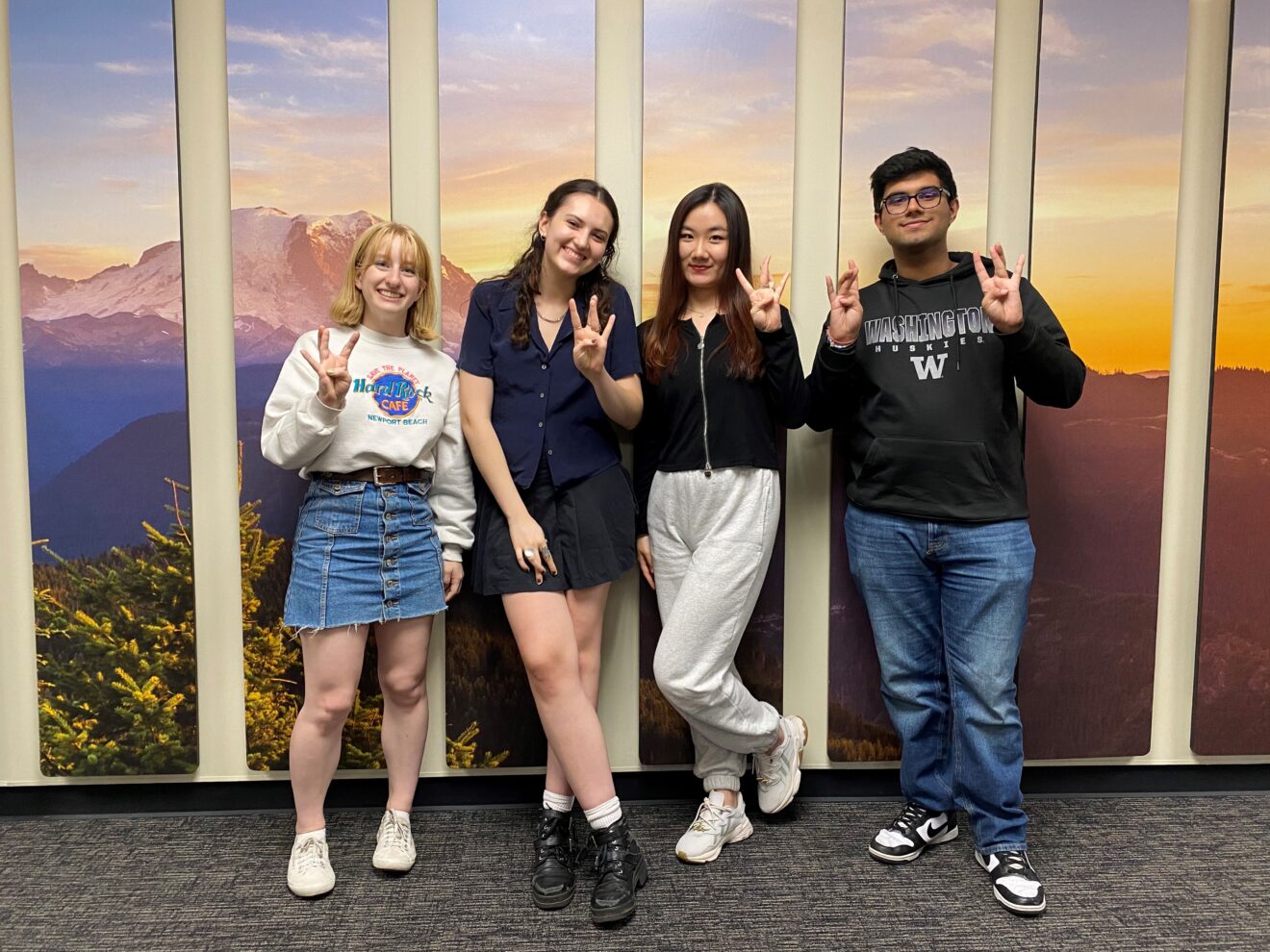 Meet Our New ISS Student Assistants!
LEFT SIDE OF PHOTO: "Hi! I'm Jennifer and I use she/her pronouns. I'm going into my third and final year at UW with a major in Political Science. I lived in Washington State until I was 15 and then I lived in Germany until I was 19. A fun fact about me is that I have three cats: Frankie, Amber, and Tina."
SECOND FROM LEFT: "Hi. I'm Paulina. I use she/her pronouns and I'm a third year student at UW. I am from Mexico City and I am double majoring in English and Political Science. A little fun fact about me is that I have a Corgi named Mia."
SECOND FROM RIGHT: "Hi! This is Sherry, a third year student majoring in Economics and I prefer she/her pronouns. I am an international student from Beijing, China. Hotpot is my favorite food. So if there is any fantastic hotpot restaurant you love, please recommend it to me! Also, I'm looking forward to meet you at our ISS Office!"
RIGHT SIDE OF PHOTO: "Hey, I am Ujjval. I go by he/him/his pronouns. I am an International Student from New Delhi, India. I've lived in Doha, Qatar all my life. I am a junior in the Human Centered Design and Engineering Department. A fun fact about me is that I'm a huge cricket and soccer fan. I support Chelsea."
Academic Training Evaluation
If you've engaged in Academic Training during or after your studies, you are required to complete an Academic Training Evaluation. We recommend that you complete the evaluation at least every six months. You can find the evaluation form in MyISSS. Questions? Please meet with a J-1 advisor.
J-1 D

rop-In Advising Information
Our J-1 advisors are available to meet with you every Thursday from 2 to 4 PM. Most of our sessions are in-person, but we also have virtual sessions to support those of you who can't make it to the office! Details are below:

In-Person Advising Days: October 20, November 10, November 17, December 8, and December 15.
Virtual Advising Days: November 3, and December 1.
What is a Travel Signature? And why does ISS keep talking about it?
In your orientation sessions, you heard a lot about travel signatures. The U.S. government requires your ISS advisors to confirm that you are maintaining J-1 status while you are a student here. One of the ways we do this is by signing your DS-2019 after we confirm your full-time enrollment. You only need the travel signature when you are re-entering the U.S. If you don't have one, Customs & Border Protection may decide to deny you entry OR you can be taken to secondary inspection for questioning.
Upcoming J-1 Travel Signature Clinics
We enjoyed seeing some of you this past Friday at our first J-1 Travel Signature Clinic. The next two opportunities for in-person travel signatures are coming up in November.

Thursday, November 3rd from 10 AM to 12 PM in Schmitz 490
Tuesday, November 15th from 10 AM to 12 PM in Schmitz 490
J-1 IMMIGRATION ORIENTATION SESSION RECORDING
Fun with Pumpkins
ISS staff members were asked what they do with pumpkins in the fall. Here are their answers:

Eating pumpkin pie with whipped cream -- Ed Farnham, ISS Program Assistant
While she prefers sweet potatoes, Ivonne Diaz (ISS advisor), will add canned pumpkin to oatmeal or pancakes.
Pumpkin carving and pumpkin sling shots (We're intrigued by the sling shot idea!) -- Leana de la Torre, ISS advisor
Pumpkin carving and then roast the seeds -- Alisa Sweet, ISS advisor
Bake pumpkin bread and bake the seeds -- Sharece M. Bunn - ISS Assistant Director
If you happen to make it to a pumpkin patch or carve your own pumpkin this year, make sure you show us a picture when you stop by the office or visit us for drop-in advising!
UPCOMING EVENTS & DEADLINES
ISS & ISHIP Fall Quarter Hours
The International Student Services office is open for regular business hours. You can visit our front desk Monday through Thursday, 1 PM to 4 PM.


The ISHIP Office has a virtual front desk Monday through Friday from 9 AM to 11 AM. An advisor is available to meet with you about insurance Mondays and Thursdays.