SPRING 2021 - WEEK 10
We want to hear from you! We've published our Feedback Form and will include it in all email correspondence. Please help us by providing feedback whenever you're interacting with our office - be that during drop-in advising, emailing with our staff, or after an appointment. The feedback form is available here.


NEW THIS WEEK
Congratulations on reaching the final week of instruction of spring quarter! Good luck to those preparing for final examinations and projects.


Over the summer, the ISS office will be hosting a series of information sessions to help prepare you for arriving to campus in autumn. Please keep an eye on our events calendar for more information coming soon. We plan to discuss the following topics:

travel and National Interest Exceptions (NIE)
all about your I-20 - for new students and students who will be traveling to the UW for the first time
the vaccination requirement & planning for autumn quarter
We've also created a form to collect your questions - we will be welcoming live questions during the information session, but welcome you to send your questions to us ahead of time.


Additionally, we would like to remind you that we will be closed for drop-in advising this week, May 31 - June 4. Our virtual front desk is open to help answer general questions, but advisors will not be available for drop-ins.
GRADUATING THIS QUARTER? START THINKING ABOUT WHAT'S NEXT!
Many students apply to graduate in spring quarter - if you have not already, please take steps to finalize your plans and status for beyond spring quarter.


Be sure to review the final year checklist - this checklist includes reminders for ALL graduating students, including:

We know that these transitions can be highly stressful, so we have prepared thorough checklists and resources for, wherever your path may lead!
REMINDER: UW VACCINATION REQUIREMENT, EXTENSION OF NATIONAL INTEREST EXCEPTIONS
SUMMER QUARTER STUDY & TRAVEL PLANS
We're looking forward to welcoming new students as we prepare for another quarter. We'd like to share a couple of reminders about the new quarter ahead.
If summer quarter will be your first quarter in the United States, you must be enrolled in an in-person course. Review the time schedule or reach out to your department for more information about finding an in-person course.
If you are planning to travel during the summer, be sure to review your travel signature validity. We expect that many students will need an updated travel signature over the summer or in preparation for autumn quarter, so please plan ahead.
We're continuing to work on deferral I-20s for students who have not yet traveled to the U.S. If you still have not requested your deferred I-20 for Summer 2021 or Autumn 2021, do so using our deferral form. If you were admitted for Autumn 2020 as a transfer student or a student changing to a higher degree level, there will be additional delays in processing your request. We are unable to manually make changes to transfer and changes of education level I-20s and must work with the government help desk, the SEVP Response Center, for technical assistance with these requests. We appreciate your patience as we work on these records! If you have questions or concerns, please contact us!
UPCOMING EVENTS & DEADLINES
Drop in advising cancellations


Drop in advising will not be available at the Virtual Front Desk the week of May 31st - June 4th.

Deadline to apply for a program extension


If your I-20 has a program end date of 6/11/2021 and you will not graduate this quarter, you must apply for a program extension. If this applies to you,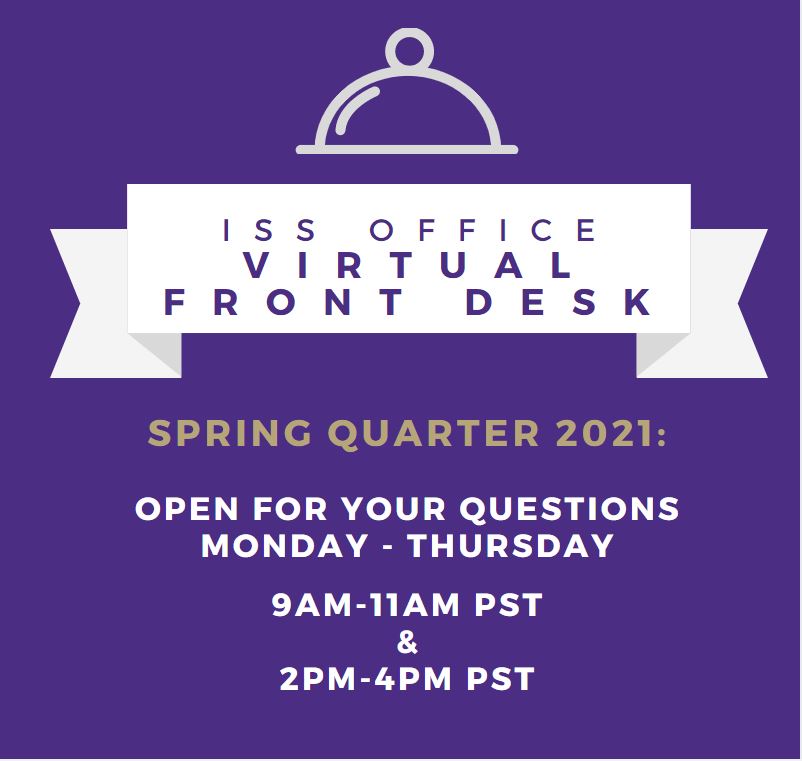 Need more information? We offer on-demand and live resources to help answer your questions! Let us know how we're doing by filling out our feedback form.