NEW THIS WEEK
The ISS office continues to serve students throughout the break between summer and autumn quarter - our drop in advising schedule and virtual front desk will continue to operate on the summer schedule until the beginning of the new academic term.


ISS Office Services During Autumn Quarter:
In the coming weeks, we will have more information to share about our return to campus and services available through our office. We'll be launching a new appointment booking process with more availability for one-on-one virtual advising appointments as well as a change to our virtual front desk and drop-in services. Please look for a more detailed update in an upcoming edition of this newsletter!


Drop-In Advising Cancellations:
Drop-in advising sessions for the following dates have been canceled - please check our events calendar for up-to-date offerings.

September 1, 2021 - CANCELED
September 9, 2021 - CANCELED
September 15, 2021 - CANCELED
Back-to-School Checklist:
Campus partners in the Division of Student Life have prepared
a Back-to-School resource
for students planning on coming to campus in September.
The checklist details actions recommended for all students as well as specific actions that students traveling from outside of Washington state – please carefully review the checklist and make preparations according to your plans and vaccination status.
Final call for your responses:
We recently sent out a brief survey with a few questions about your plans to travel for autumn quarter. If you have not already, please complete the survey so that we can prepare for your arrival to campus in September!


IMMIGRATION CHECK-IN AVAILABLE NOW!
ISHIP PREMIUM REBATES FOR 2020
If you purchased ISHIP health insurance coverage at the UW during the 2020 calendar year, whether for just one quarter or for the entire year, you will receive a letter and rebate check from LifeWise sometime during the month of September, assuming that LifeWise has a current address for you.
2020 was a very unique year in many ways due to the COVID-19 outbreak. One effect was a significant reduction in the utilization of healthcare over several months when much of the world was effectively shut down. Due to low utilization, LifeWise will be returning a portion of the premium fee to students who enrolled in ISHIP during the 2020 calendar year. Most of the checks will be relatively small, with the vast majority under $100.00.
To find more information about the ISHIP premium rebate, go to our News/Alerts of the ISHIP website.
The checks will be sent by LifeWise to the addresses which they have in their system. If you are a currently enrolled UW student, you may update your local mailing address through your MyUW account.
REMINDERS
VACCINATION STATUS VERIFICATION & RETURN-TO-CAMPUS
In an

email to UW community members on July 7, UW President Cauce and Provost Richards shared updated guidance about campus operations and provided instructions for vaccination status verification. If you are a student who is also an employee at the UW, note that you will be required to complete the student attestation as well as the employee attestation.


Updated 8/13/2021: All campus community members are required to wear masks or other face coverings when indoors.
Based on Washington State guidance, physical distancing and capacity limits are no longer in place.
Students, Faculty and Staff must verify their vaccination status. Students must provide vaccination information by the start of autumn quarter. Do so using the

student COVID-19 vaccine attestation form.
If you are traveling to the U.S. for autumn quarter and will not be vaccinated yet, your deadline to provide vaccination status verification is November 5, 2021.
A hold will be placed on winter quarter registrations if the form has not been submitted by November 5, 2021.
SUMMER VIRTUAL FRONT DESK SCHEDULE
We are currently following our summer hours for our Virtual Front Desk and Drop-In Advising services.
Virtual Front Desk Schedule – Summer 2021
Monday – Thursday from 9:00 AM – 11:00 AM PST
Monday – Thursday from 2:00 PM – 4:00 PM PST
Staff will be available to help you navigate the website, connect you to important resources, and provide general assistance. Staff will admit one student at a time to the Virtual Front Desk – we appreciate your patience!
Drop-In Advising
Sessions with International Student Advisors will be available through the Virtual Front Desk at the following times:

Tuesdays from 2:00 PM – 4:00 PM PST
Wednesdays from 9:00 AM – 11:00 AM PST.
During these blocks, International Student Advisors will be available for 10-minute consultations.

There will be no advising staff at the Virtual Front Desk outside of these hours.


UPCOMING EVENTS & DEADLINES
September 29, 2021 - Autumn Quarter Instruction Begins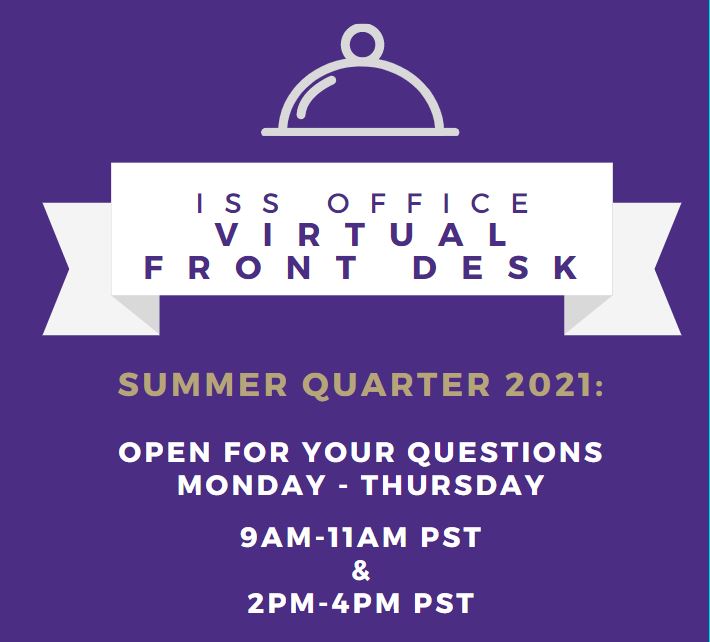 Need more information? We offer on-demand and live resources to help answer your questions! Let us know how we're doing by filling out our feedback form.
Missed an edition of our newsletter? They're now archived on our website for easy access.