SUMMER QUARTER: WEEK 6
NEW THIS WEEK
Summer quarter is officially more than halfway over and here at the ISS office, we're working to catch up on your requests and emails. It has been a busy quarter for us with onboarding new staff and planning our return to campus in autumn quarter - we're all looking forward to being back on campus, and seeing you there, too!


We'll share more about these plans ahead of autumn quarter, but for now, we appreciate your patience as we continue to work remotely. We're currently experiencing an even higher volume of requests than usual - we know you all have many questions, and we're working diligently to provide you with the information you need!


We love to hear from you and we appreciate your patience when checking in on the status of your requests. Our processing time is currently up to one month - we ask that you delay checking in on requests until they've exceeded our processing time.


SHIH INTERNATIONAL GRADUATE STUDENT LOANS
UW international graduate students are eligible to apply for the Shih International Graduate Student Loan. The loans are made possible through a generous gift from Jeff Shih, a Seattle and San Francisco businessman and are intended to help international students in financing their education and completing their degree objectives. Students receiving funds from their governments, permanent residents, and naturalized U.S. citizens are ineligible for this loan. Students must be enrolled for five credits or more during the quarter in which they receive the loan. (Students registered for two credits may receive the loan on an exception basis; special procedures are required.) Shih loan recipients are expected to maintain satisfactory academic progress and scholarship during the loan period.
The total amount a graduate student may borrow in this program throughout the course of his or her graduate career is $15,000. The terms of the loan include a 4% interest rate. (Should the student elect to repay the full amount of the loan while still enrolled full-time at the University of Washington, no interest or service fees will be assessed.) Most loans have a grace period before you have to start repaying – the Shih Loan grace period is nine months. Your grace period starts the day after you leave school, graduate or drop below half-time enrollment before your repayment begins. You don't have to begin making payments until your grace period ends. (Should a student's enrollment drop below the five-credit per quarter level, the nine-month grace period would begin.) Your monthly repayment amount will be determined by the loan amount you borrow. The total amount of the loan must be repaid within ten years.
Due to the limited funding and very high demand in this loan program, if you wish to apply or be placed on the wait list for the academic year of 2021-20222, you should contact James Flowers (Associate Director, Office of Student Financial Aid) by email (jflowers@uw.edu) for more information.
PREPARING FOR AUTUMN 2021
We're continuing to work on deferral I-20s for students who have not yet traveled to the U.S. If you still have not requested your deferred I-20 for Autumn 2021, do so using our deferral form.
If you were admitted for Autumn 2020 as a transfer student or a student changing to a higher degree level, there will be additional delays in processing your request. We are unable to manually make changes to transfer and changes of education level I-20s and must work with the government help desk, the SEVP Response Center, for technical assistance with these requests.
We appreciate your patience as we work on these records! If you have questions or concerns, please contact us!
UPCOMING INFORMATION SESSIONS
Over the summer, the ISS office will be hosting a series of information sessions to help prepare you for arriving to campus in autumn. We plan to discuss the following topics:

travel and National Interest Exceptions (NIE)
all about your I-20 - for new students and students who will be traveling to the UW for the first time
the vaccination requirement & planning for autumn quarter
We've also created a form to collect your questions - we will be welcoming live questions during the information session, but welcome you to send your questions to us ahead of time.


The next information session is Tuesday, July 27th at 7 AM PDT.
REMINDERS
VACCINATION STATUS VERIFICATION & RETURN-TO-CAMPUS
In an

email to UW community members on July 7, UW President Cauce and Provost Richards shared updated guidance about campus operations and provided instructions for vaccination status verification. If you are a student who is also an employee at the UW, note that you will be required to complete the student attestation as well as the employee attestation.


Everyone is welcome to continue wearing masks on campus, but only the unvaccinated are

required

to wear face coverings. With limited exceptions (health-care and child-care facilities, UW shuttles), fully vaccinated individuals do not have to wear a mask on campus.
Based on Washington State guidance, physical distancing and capacity limits are no longer in place.
Students, Faculty and Staff must verify their vaccination status. Students must provide vaccination information by the start of autumn quarter. Do so using the

student COVID-19 vaccine attestation form.
If you are traveling to the U.S. for autumn quarter and will not be vaccinated yet, your deadline to provide vaccination status verification is November 5, 2021.
A hold will be placed on winter quarter registrations if the form has not been submitted by November 5, 2021.
SUMMER VIRTUAL FRONT DESK SCHEDULE
We are currently following our summer hours for our Virtual Front Desk and Drop-In Advising services.
Virtual Front Desk Schedule – Summer 2021
Monday – Thursday from 9:00 AM – 11:00 AM PST
Monday – Thursday from 2:00 PM – 4:00 PM PST
Staff will be available to help you navigate the website, connect you to important resources, and provide general assistance. Staff will admit one student at a time to the Virtual Front Desk – we appreciate your patience!


Drop-In Advising
Sessions with International Student Advisors will be available through the Virtual Front Desk at the following times:

Tuesdays from 2:00 PM – 4:00 PM PST
Wednesdays from 9:00 AM – 11:00 AM PST.
During these blocks, International Student Advisors will be available for 10-minute consultations.

There will be no advising staff at the Virtual Front Desk outside of these hours.


CHANGE OF MAJOR I-20S
If you have a major change effective for summer quarter, please note that we have begun emailing out the major update I-20s. As a reminder, s

tudents do not need to contact ISS to request an update to the I-20 with new major or minor information —

it will happen automatically

. If your major change is in effect for summer, a

new I-20 is usually available by the 6th week of the quarter.


We will be issuing change of major I-20s for changes effective in autumn quarter by week 6 of autumn quarter.
LATE COURSE DROP PERIOD & THE ADVISOR ASSISTED DROP
Week 3 marked the beginning of the Late Course Drop period - this means that there are additional steps involved if you need to drop courses. The late drop period for courses only offered during B-term will begin July 28, 2021.
You now have two options:
If you need to drop just one course, you may do so once per quarter using your self-serve Quarterly Drop via MyUW. The Quarterly Drop replaced the Annual Drop in Autumn 2020.

To use your self-serve Quarterly Drop, follow the same instructions as for the Unrestricted Drop Period

. You will not be eligible to use the self-serve drop if the drop will take you below full-time.

If you have already used your self-serve Quarterly Drop, or if you know you want to drop more than one course, you will use the

Adviser-Assisted Drop

process.
UPCOMING EVENTS & DEADLINES
Event Series: ISS Information Session: Planning for Autumn 2021


Join ISS staff and campus partners for a live Q&A session.

We will address common questions about returning to campus (or coming to campus for the first time!), national interest exceptions, requesting your I-20, and more.

Participants can submit questions ahead of time using our

question form.


Summer quarter registration and tuition deadlines

Please review the academic calendar for a complete list of all relevant deadlines
Register for classes before the late registration period begins on July 5th - during the late registration period, a $75 fee will be assessed for first time registrants.
Make changes (add/drop) by June 25th - the last day to withdraw without owing tuition or fees. A $20 fee will be assessed for late adds or drops beginning June 28th.
Pay tuition no later than July 9.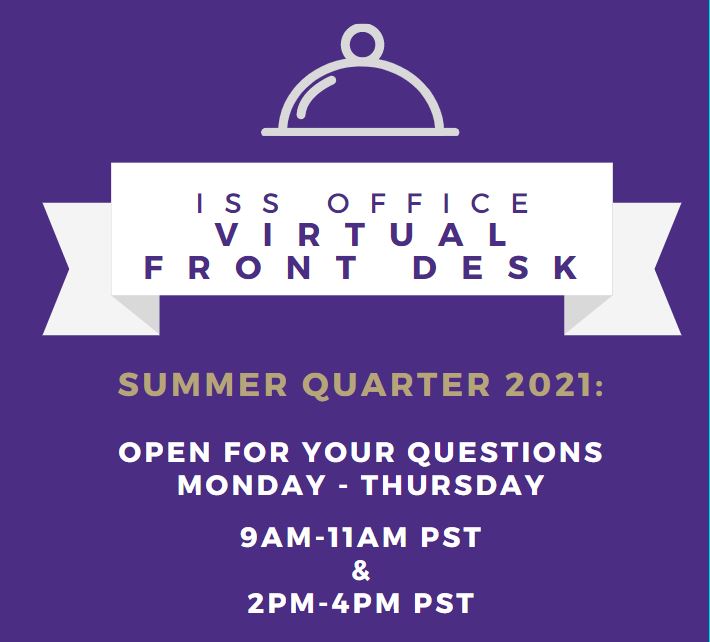 Need more information? We offer on-demand and live resources to help answer your questions! Let us know how we're doing by filling out our feedback form.
Missed an edition of our newsletter? They're now archived on our website for easy-access.