SUMMER QUARTER: WEEK 3
NEW THIS WEEK - NEW ADVISORS JOINING OUR TEAM!
A message from Sharece M. Bunn, Assistant Director of International Student Advising:
I'm incredibly excited to announce that we have THREE NEW ADVISORS joining our International Student Advising Team at ISS this July! Alisa Sweet, Ivonne Diaz, and Jo Anne Marie Ancheta will join our team July 6th and will quickly be integrated into our advising team.
Over the summer months, these new advisors will be working with other members of our advising team to learn about UW policy and ISS procedures. You may expect to have TWO advisors meeting with you during drop-ins each week as they train for their new roles. Our hope is to have our advising team back up to 7 fully-trained full-time staff by the start of autumn quarter.
We have heard you ask for faster service. Please know that these awesome additions to our team will help us serve you better over the next year. AND, we know that it may take a few weeks for us to get our advisors ready to serve you fully. We appreciate your patience as we work to serve you this summer!
Thank you and happy summer!
FOURTH OF JULY HOLIDAY CLOSURE
The ISS office was closed today, Monday, July 5th, in observation of the Fourth of July holiday. July 5th is not considered a business day for processing.
Because of the observed holiday, we've changed up the drop-in advising schedule. This week, you can meet with an advisor during drop-in advising on Wednesday, July 7 from 9-11AM or Thursday, July 8 from 2-4PM.
We hope you enjoyed the long holiday weekend!
LATE COURSE DROP PERIOD & THE ADVISOR ASSISTED DROP
Week 3 of the quarter marks the beginning of the Late Course Drop period - this means that there are additional steps involved if you need to drop courses.
You now have two options:
If you need to drop just one course, you may do so once per quarter using your self-serve Quarterly Drop via MyUW. The Quarterly Drop replaced the Annual Drop in Autumn 2020.

To use your self-serve Quarterly Drop, follow the same instructions as for the Unrestricted Drop Period

. You will not be eligible to use the self-serve drop if the drop will take you below full-time.

If you have already used your self-serve Quarterly Drop, or if you know you want to drop more than one course, you will use the

Adviser-Assisted Drop

process.
*The late drop period for courses only offered during B-term will begin July 28, 2021.
REMINDER: SUMMER VIRTUAL FRONT DESK SCHEDULE
We are currently following our summer hours for our Virtual Front Desk and Drop-In Advising services.
Virtual Front Desk Schedule – Summer 2021
Monday – Thursday from 9:00 AM – 11:00 AM PST
Monday – Thursday from 2:00 PM – 4:00 PM PST
Staff will be available to help you navigate the website, connect you to important resources, and provide general assistance. Staff will admit one student at a time to the Virtual Front Desk – we appreciate your patience!


Drop-In Advising
Sessions with International Student Advisors will be available through the Virtual Front Desk at the following times:

Tuesdays from 2:00 PM – 4:00 PM PST
Wednesdays from 9:00 AM – 11:00 AM PST.
During these blocks, International Student Advisors will be available for 10-minute consultations.

There will be no advising staff at the Virtual Front Desk outside of these hours.
SUMMER QUARTER STUDY & TRAVEL PLANS
If summer quarter will be your first quarter in the United States, you must be enrolled in an in-person course. Review the time schedule or reach out to your department for more information about finding an in-person course.
If you are planning to travel during the summer, be sure to review your travel signature validity. We expect that many students will need an updated travel signature over the summer or in preparation for autumn quarter, so please plan ahead.
We're continuing to work on deferral I-20s for students who have not yet traveled to the U.S. If you still have not requested your deferred I-20 for Autumn 2021, do so using our deferral form.
If you were admitted for Autumn 2020 as a transfer student or a student changing to a higher degree level, there will be additional delays in processing your request. We are unable to manually make changes to transfer and changes of education level I-20s and must work with the government help desk, the SEVP Response Center, for technical assistance with these requests.
We appreciate your patience as we work on these records! If you have questions or concerns, please contact us!
UPCOMING INFORMATION SESSIONS
Over the summer, the ISS office will be hosting a series of information sessions to help prepare you for arriving to campus in autumn. We plan to discuss the following topics:

travel and National Interest Exceptions (NIE)
all about your I-20 - for new students and students who will be traveling to the UW for the first time
the vaccination requirement & planning for autumn quarter
We've also created a form to collect your questions - we will be welcoming live questions during the information session, but welcome you to send your questions to us ahead of time.


The next information session is Tuesday, July 27th at 7 AM PDT.
UPCOMING EVENTS & DEADLINES
Event Series: ISS Information Session: Planning for Autumn 2021


Join ISS staff and campus partners for a live Q&A session.

We will address common questions about returning to campus (or coming to campus for the first time!), national interest exceptions, requesting your I-20, and more.

Participants can submit questions ahead of time using our

question form.


Summer quarter registration and tuition deadlines

Please review the academic calendar for a complete list of all relevant deadlines
Register for classes before the late registration period begins on July 5th - during the late registration period, a $75 fee will be assessed for first time registrants.
Make changes (add/drop) by June 25th - the last day to withdraw without owing tuition or fees. A $20 fee will be assessed for late adds or drops beginning June 28th.
Pay tuition no later than July 9.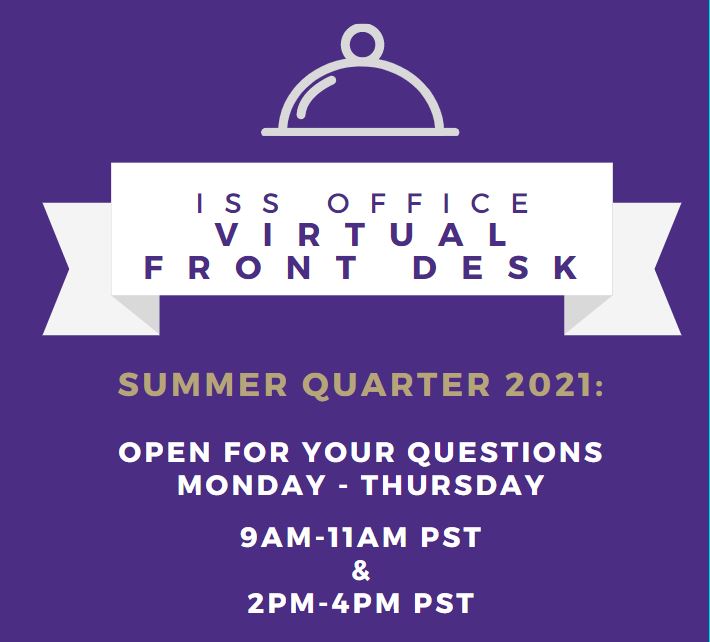 Need more information? We offer on-demand and live resources to help answer your questions! Let us know how we're doing by filling out our feedback form.